Yet another week has come and gone in great education….now it's time to reflect on the week that was.
Leçon Une: Play With Fire and You'll….Burn Your Hand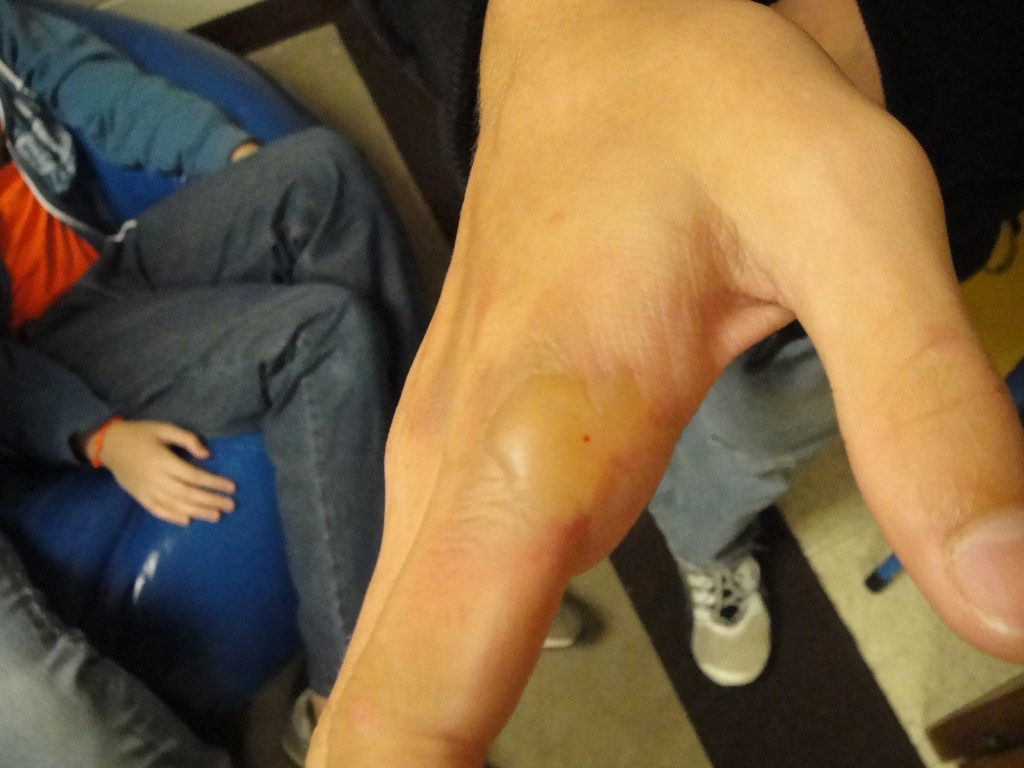 The disgusting hand pictured above belongs to one of my first hour students…..needless to say I was very proud of him when he told me that he burned it by spraying Axe Body Spray in a bottle and then proceeded to light it on fire. As you can see this proved to be a very dumb not wise decision on his part….DON'T PLAY WITH FIRE, lesson learned.
Leçon Deux: Your Never Too Old for Toys
Pictured above is my latest toy I purchased, thanks to Dr. Strange, this toy is called an Eyeclops. While this may be intended to children I have it to be powerful tool in my classroom during our current microscope lab. It allows me to project magnified images unto a board as a example for my students. Today I used it project a newspaper clipping for my students to display what they are looking for during our letter "e" lab.  As I stated before, this is a fantastic classroom tool and is well worth the $50 it cost if you are planning of doing a microscope lab anytime soon.
Leçon Trois: Fake Money Is Valuable
Above is a picture of a money template that is used in a art project called Fundred. This is an art project like non-other, Fundred was establish to make a real difference. The goal is to protect America's youth from lead poisoning by bringing awareness to areas in the United States such as New Orleans. My social studies students will be taking part in this nationwide project…..stay tuned, more details coming soon. In meantime check out their website.

Leçon Quatre: Showing Some Skin for a Good Cause

This coming week marks our annual Woodland Junior High vs. Ramay Junior High spirit week. This means a variety activities coming up soon, none of them more intense than the "Sexy Leg Contest" at Woodland Junior High. This contest is open to all teachers in the school and basically means that all volunteers have a profile shot taken of their sexy legs (my gorgeous hams pictured above). Students then vote on the "sexist" pictures using coins and dollars during lunch. While this contest may seem very silly it is in support of a serious cause. All money raised during this contest will be donated to the United Way. The United Way advances creating opportunities for a better life for all, by focusing on the three key aspects of education, income and health. This organization has had a huge impact on our community here in Fayetteville, and it is very gratifying to have the opportunity to contribute to this wonderful cause.
Mr. McClung