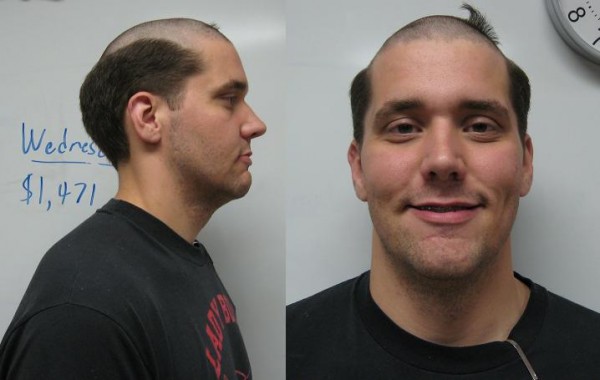 The day is finally here…after over a month of me talking to no end about The Race for the Cure and the day of the shave finally arrived today. My students have been immersed in a fundraising effort for over a month with all of the money that they raise going to Susan G. Komen for The Cure. However, we added a little competition to make the fundraising a little bit more entertaining…each one of my classes have been competing for the the right to shave my head…and today that day came. That's right! Today was the "Day of The Shave".
Displayed in the picture above is my poor misshaped head after phase one of my day of the shave experience. The way that it worked was the second place class got first dibs on my head and were allowed to shave only the top portion…and that was the extend of the rules that were given to them. As you can see, they had a field day with this and decided to make my hair resemble something that would be more accustom for a Hair Club for Men client.
The wonderful mug shot above shows phase two of my bad hair day. After the second place team was finished with my hair, I then wore around the 'horseshoe haircut' for two periods until the winning class (5th period) arrived in my classroom. They were then saddled with the chore of shaving what was left of my hair and having a little bit of fun in the process.
Overall it was a wildly success fundraiser and a wonderful way to celebrate the excellent accomplishments of my students. As a group, myself and my students were able to raise nearly $1,500 that has now been donated to Susan G. Komen for The Cure. There will be a few more blog post to follow this one in regards to The Race for The Cure, which will include video of my head being shaved and a final wrap-up post giving a proper thank you to all those that have helped us out. So stay tuned and I hope every enjoys the pictures.
PS – while I may be bald there is still a silver lining to this whole story…at least my bald head is not as ugly as some other bald teacher I know…
Mr. McClung